Up Your Game with these Six (6) Features of a Great Podcast
When it comes to podcasts people often think there are no general rules. It is easy to imagine that all you need is a great topic, an awesome interviewee, some melodic voice, and a recording device.
However, great podcasts are a work of art. Each session is a combination of opinions and perfection; such that even if delivered with precision, it must also be accompanied by the correct marketing tempo. (click to read more)
Here are Six (6) ways to up your game in the podcast industry. We will share insights that have helped businesses raise the bar over the years.
Quick Tip: Did you know that the success of a podcast greatly depends on the host?
'50% of the quality of your podcast will depend on you; the host'
There is a measure of success for podcasts that comes from the charisma of the host. As the host, you do not only determine the quality of the conversations, but also the subject of your interviews, the tone, the audio quality, etc. While you may want to leave the technical details of audio quality and the marketing to experts (like us) it is strongly advised that you bring your spice to the show! Read on to learn how.
Tip #1 – Every great podcast has an exciting host.
As the host, you are the heart and glue of your podcast (always remember this).
Let's consider a common trend of typically bad yet thriving shows. There are some shows that people judge as politically incorrect but still, we see them amassing high followership. A handful of shows have been talked down because of their vibes but they remain relevant to date because, in summary, the host has something that keeps everyone glued. The same thing applies to podcasts. You need to find that something, or that angle that makes your podcast interviews the go-to for everyone in that niche/ area/ line of business. You need to have a unique voice and a unique style. Oftentimes, podcasters wonder how they can find that voice or that unique aura, in a nutshell, the Norrinradd advice is this: 'be authentic'
Tip #2 – Great Podcasts engage the listeners
Carry your audience along
The follow-up magic wand to being authentic is to engage your audience. Your listeners need to feel like they are a part of the show. Experts advise that you use direct and present tense in your podcast. For example, it is more fascinating for people to learn from your podcast as they listen along the way, so avoid using a summary-intro approach. Don't tell them your opinion about the subject matter or the interview. Simply brief them on the topic, the diverging views about it, and introduce them to your guest speaker for the day. This pattern allows listeners to go on their voyage of fact-finding from the show. It is more engaging and fun.
Tip #3 – Great Podcasts are adequately prepared for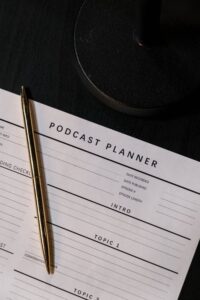 Say No to the Novice podcaster
Thirdly, do your research before the interview. Many a time, the podcaster feels less pressure to prepare for a podcast; after all, it is the interviewee who gets to answer all the questions right? However, if you desire a podcast that people want to tune in to, then you need to organise one that answers their pressing questions. How do you know these questions you may ask?
Welcome to the world of social media where almost every newsworthy topic has been subject to an online debate. Surf the internet about your topic, or the career path of your guest speakers and pen down some puzzling questions that you can gather. With that background, you will be able to narrow your conversations to only important points and draw up questions as you guys converse.
Tip #4 – Know Your Audience
Your audience is the most important personality in the universe as far as podcasts are concerned. You should not aim to tell them what they want to hear, but you should focus on addressing areas they care about and channeling your podcast booking services in that line. Younger audiences fancy the storytelling, imaginative tone, while the older generations are fact finders who prefer the news-like reports of what's happening in the mortgage or stock market. Know your audience and address their most pressing questions.
Tip #5 – Blockbuster guest speakers are the icing on the cake
Your guest can either make or break your session so choose smartly. It is always better to pick a guest that is experienced in your topic. Experienced, and vast; not necessarily your best friend, or the most famous guest in the block. If you must invite someone because of their fame, then discuss something they have valuable insight on.
Tip #6 Marketing 001
Last but not least is positioning. You need to position yourself where you can be seen and heard by your target audience. This area is often underestimated but it is a huge determinant of success. You can carry out a sound check, an audio preview, call the best guests but not receive the visibility that you need for next-level success. This is where Norrinradd comes in. We utilize social media marketing, digital marketing, and podcast booking services/ advisory. We help you accelerate contact/impact and improve the overall quality and reach of your podcast.